Group communication barriers. The 4 Types of Barriers in Group Communication are Ethnocentrism, Stereotyping, Prejudice, also Discrimination. 
Group Communication
Barriers
Barriers in Group Communication are disturbances that obstacles to interactive communication among group members. The barrier in group communication usually hiders to understand other members in the group or team. The group discussion has many stages, tensions, conflicts and so more. According to Tuckman Theory, the five stages of group discussion are Forming, Storming, Norming, Performing, and Adjourning. Members must need to overcome all these stages to achieve the independent and interdependent goal. The four types of barriers in group communication are Ethnocentrism, Stereotyping, Prejudice, and Discrimination. 
Barriers in Group Communication
Barriers in group communication are also known noises in group communication. These barriers or noises in communication are prevalent in every context of the communication process, for example, barriers in the face to face communication, barriers in mediated communication, barriers in corporate communication, and barriers in group communication. Barrier or noise is the unwanted element of the communication process.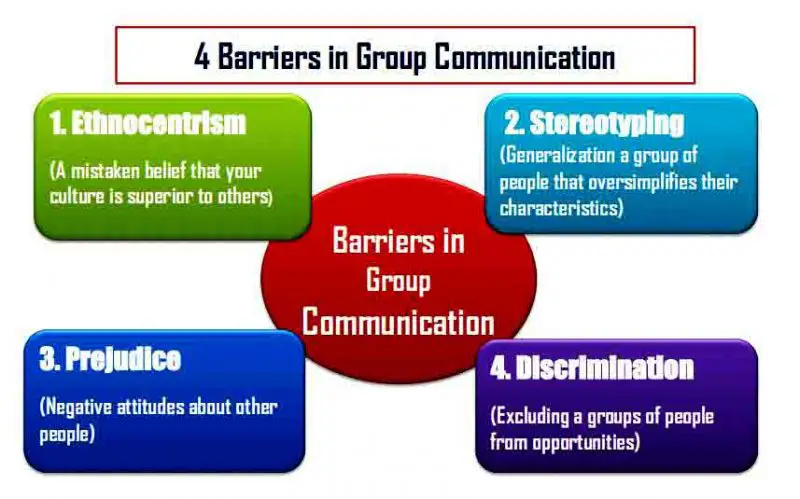 The 4 Types of Barrier in Group Communication
Ethnocentrism

Stereotyping

Prejudice

Discrimination.
1.
Ethnocentrism
Ethnocentrism refers to a mistaken belief that your culture is superior to others, with special rights and privileges that are or should be denied to others. It is not about patriotism or pride.  Actually, ethnocentrism is a great barrier in group communication that obstacle to effective communication among the group or team members. 
For example, my culture should be a role model for other cultures. People would be happier if they lived like people in my culture.
Furthermore, most other cultures are backward when compared with my culture.

For example, Have you ever been insulted by someone who implies that his/her religious beliefs are "true", whereas yours are not?

For instance, Have you been disrespected by someone who believes that his traditions, language, or music preferences are "better" than yours?
2. Stereotyping
Stereotyping means generalization about a group of people that oversimplifies their characteristics. It relies on exaggerated beliefs to make judgments about a group of people. For example, Malays are lazy; Chinese are greedy and rich; Indians are drunker; Singaporeans are "kiasu" (http://english.astroawani.com/merdeka2014/debunking-myths-not-all-malays-are-lazy-chinese-greedy-indians-drunkards-42264). Negative traits to an entire group when, in reality, only a few people in that group may possess those traits. In another instance, asian students are good at Mathematics(Positive stereotypes). 
3. Prejudice
Prejudice refers to the negative attitudes about other people that are based on faulty and inflexible stereotypes. Most prejudices are negative. For example, "He cannot be brilliant if he only has a Bachelor's degree from XX University or College. In addition, "I don't want a person with disabilities working on our group project."
Stereotyping ⇒ Prejudice

Characteristics of Prejudice:
Firstly, they are rarely based on extensive direct experience and first-hand knowledge.

Secondly, the result is irrational feelings or dislike and even hatred for certain groups.

Finally, they justify a readiness to behave in negative and unjust ways toward members of the group.
4. Discrimination
Discrimination describes how we act out and express prejudice. When we discriminate, we exclude groups of people from opportunities granted to others: employment, promotion, housing, political expression, and equal rights. For example, Racial, ethnic, religious, gender, sexual harassment, sexual orientation, disability, age, people from different social as well as political classes.