Reasons For Organizational Change PDF. Reasons For Change Management PDF. Causes of Organizational Change.
Organizational Change
Organizational Change refers to the business transformation to overcome business barriers and achieve competitive benefits. It is also known as change management and organizational change. Many organizations accept change management to survive and gain success. Change management is a significant strategy to exceed customer gratifications.
Change is essential for an organization to cope with the current business environment. The organization will not meet the ever-changing expectations of its customers unless changing the movement from one stage to another stage. Organizational change may occur based on diverse business factors such as technology, strategy, policy, structure, and culture. It helps replace old policies with sophisticated strategies adjusting to the current situation. Every business needs to accept change management for the betterment of the organization.
 Example of Organizational Change
Netflix is the perfect example of management change. Netflix's Organizational Change shows the reason and importance of change in an organization to survive a crisis moment. It has also proved that organizational change is inevitable to achieve competitive benefits. Netflix changed its business model in 1998 by launching a pay-per-rental strategy. In 1999, Netflix launched renting DVDs as a monthly subscription policy. In 2007, it again changed the business policy by launching a video streaming feature. Video streaming is the most successful strategy that made Netflix one of the most popular companies in the world. Lewin's Change Management Model describes the three stages of organizational change: unfreezing, changing, and refreezing.
Reasons For Organizational Change
Reasons for organizational change mean causes of change management. The reason refers to the causes of resistance to change in an organization. It indicates the factors that stimulate change in organizational management. It also mentions the rationale for organizational change. Many factors are associated with management change, such as technology, globalization, market condition, evolving customer needs, poor performance, etc.  Technology and transformational leaders are essential to adjust organizational change and development in management systems. The change management process gets disrupted without proper execution of the new plan. However, the management encounters many barriers in an organization during business transformation. So, the management should properly practice before implementing the strategy to succeed.
The internal and external forces of organizational change
Reasons for organizational change are:
Modern Technology
Globalization
Customer Demand
Employee Demand
Stakeholder Demand
Market Condition
Poor Performance
Government Policy
Social Change
Advanced Model and Theory
Competitive Innovation
Cost Cutting
Merging Business
Natural Disasters and Pandemics
Product and Service Quality
Higher Profit Margin
1. Organizational Change For Technology
Firstly, the revolution of technology forces organizations to adapt to changes. Sometimes, major and minor organizational changes happen due to the rapid growth of technology. Netflix is one of the companies that has changed its business patterns and policy to adjust to the technological era. Netflix made two major changes since its launch. Firstly, it opened the subscription option in 1999 to store DVD rentals. In 2007, Netflix made its second change by launching an online video streaming service.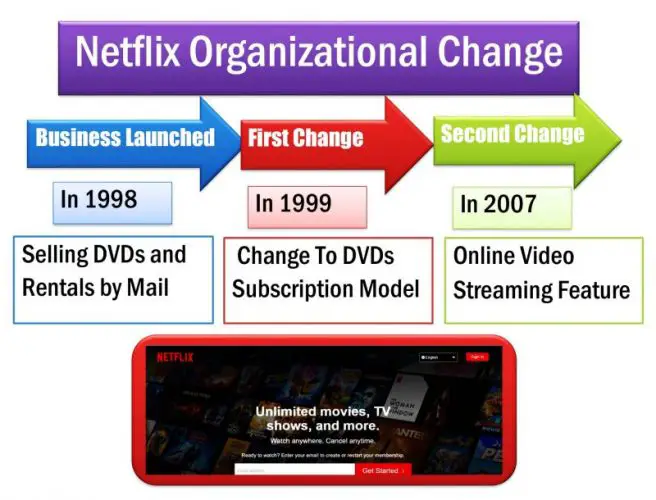 Many famous organizations worldwide have shut down their operation due to not changing their business patterns. For example, Kodak has fallen off the top position in the world. Apart from these, some companies, such as computers, smartphones, and social media, have accepted the changes to adjust to the technological revolution. Organizational change is a crucial factor in adjusting to the new technological culture. Technology is one of the fundamental reasons for organizational change.
For example, Netflix has admitted organizational changes to cope with new technology and the digital media revolution.
2. Organizational Change For Globalization
Globalization is another important factor that influences organizations to adapt to the changes. Globalization allows an international company to sell its products and services beyond the border. It is a great scope for international companies to extend their business worldwide. It is a blessing for them, but national and small company faces multiple complexities due to globalization. Finally, national and domestic companies are changing their business structure and policy to combat international companies. They are trying to produce international-level products and services to satisfy customers. In sum, globalization seems to be another significant reason for organizational change to cope with the new era.
For example, Indian software companies Wipro and Infosys changed their work environment due to the global workforce.
3. Organizational Change For Customer Needs
Additionally, evolving the customer's needs triggers the company to adapt to change to exceed customer expectations. Change is constant; hence, the customer's needs are changing daily. The organization cannot stop the customer from evolving their expectations because it is a natural process of human beings. Changing the behaviors and expectations of the customers will not be stopped, so the organization needs to change its business models and policies to attract them.
Netflix has changed its business patterns two times to meet customers' needs, and consumers have accepted these changes. It is safe to say that the launching of video streaming services has become the prime business pillar of income. Finally, Netflix changed from HTTP to HTTPS website encryption to ensure the viewer's privacy. Netflix accepted all these organizational changes to satisfy its consumers. Customer need is the most crucial reason for change management.
For example, Facebook and Netflix accepted the organizational change to meet customer demands.
4. Organizational Change For Market Condition
Apart from changing the customer's needs, the market condition has been changed according to the socio-economic condition of the current world. Organization adapts to changes to combat the current situation. For example, the COVID-19 pandemic has dramatically changed the world economy and how people live in society. The world health organization (WHO) urged to lockdown on all affected countries to combat the COVID-19 pandemic. It has changed world economic market conditions due to the COVID-19 pandemic.
The Air Asia company offers free hotel booking opportunities for travelers to collect more passengers and combat the current market condition. During this period, it was challenging for the airline to land all scheduled planes, making pay cuts and cutbacks for the first time in its history because of the pandemic. Similar exercises will likely continue throughout the transition process, but their goal is to ensure a good restructuring to retain as many workers as possible.
For example, due to market conditions, Air Asia Airlines changed its payment structure.
5. Organizational Change For Poor Performance
Finally, poor performance is the most important factor in motivating an organization to change. Poor performance is the prime cause of low benefits. Every company or organization wants to earn more profit and a reputation through excellent performance. Polaroid is one of the best examples of changing the business model due to poor performance. In 1994, it became the best camera and film Production Company. Change in top-level management influenced increased performance and achieved competitive advantages.
Conclusion
Based on the discussion, it is safe to say that change is important for an organization to combat the crisis and achieve competitive advantages. Many factors stimulate the Company to change, such as the revolution of technology, globalization, evolving customer needs, market conditions, and poor performance. Despite the negative impact of organizational change, change is constant and happens because of its well-being.
Citation for this Article (APA 7th Edition)
Kobiruzzaman, M. M. (2023). Organizational Change Reasons: Reasons For Organizational Change. Educational Website For Online Learning. https://newsmoor.com/organizational-change-reasons-reasons-for-change-management-factors/