Company Profile Sample- How To Make a Company Profile Sample. Also, The Elements and Components of a Company Profile Sample.
Company Profile
A company profile is a written document representing the business goal, vision, mission, reputation, background, working experience, marketing plan, etc. It is also called a business report of the company that describes the business formally and professionally.
A company's business profile is significant for promoting products and services, and it is essential to make a business agreement with another company. Every company profile describes its history from when it started traveling to an uncertain future. Although the template of company profiles is distinguished, the basic structure of every company is almost the same. The most common components of the company profile are the company name, address, description, mission, vision, services, management team, business growth, rules, regulations, and so more.
How To Make a Company Profile Sample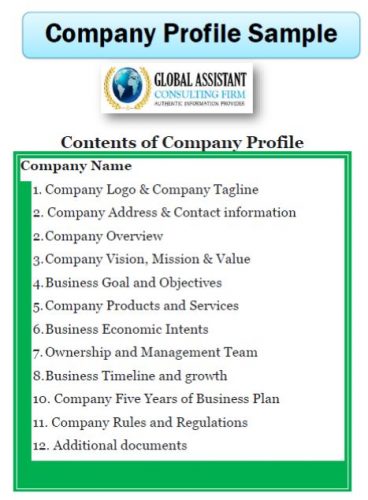 Company Profile Sample
The author shares a company profile sample named Global Assistant to educate how to make a company profile. Global Assistant is an education consultancy firm that works globally for international student's admission. It is considered the ideal sample of a company profile that explains how to make a company profile. Based on the fundamental components of the company, a sample of the company profile has been presented below. The students, employees, and viewers need to follow the instructions step by step to know how to make a Company profile sample.
Components of Company  Profile
Company Name, Logo, Tagline, and Contact information.
Company Introduction
Vision, Mission, and Value
Business Goal and Objectives
Services
Economic Intents
Ownership and Management Team
Timeline and growth
Five Years of Business Plan
Also, News and Media Relationships.
 1. Company Name, Logo, Tagline, and Contact
The essential elements of the company profile are name, logo, and contact information. A company cannot run properly without these items.
For example,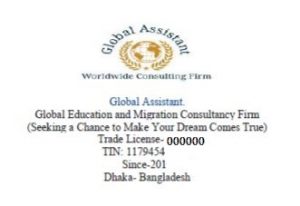 Addresses and Contact
Every company profile must have the company address; so that the stakeholders, employees, and customers can communicate with authority easily. Additionally, it includes the contact number such as phone number, email id, and website.
For example, Malaysia: +60111111111 and Bangladesh: +880111111111, Email address: abcd@gmail.com, Website: www.globalassistant.info
Banking Details
The company profile includes banking details for dealing with financial issues. It is undoubtedly one of the essential elements of the company profile to inform others about the authentic bank accounts.
2. Company Introduction
The company introduction seems another crucial component of the company profile that represents the nature of the business. It also contributes to persuading the stakeholders and customers to be connected with the business. The new employee earns knowledge about the company from this section. It represents the business nature, establishment, services, and so more. The sample of Global Assistant's company introduction explains how to write a company introduction as well as the profile.
We are the Global Assistant Consulting Firm, and we have been assisting students through sharing information regarding education, admission, scholarship, migration, and visa processing since 2019. It has become one of the most popular education consultancy firms in Asia and Latin America. We believe in sharing authentic information to help our customers to make their dreams come true. We firmly believe that "Global Assistant" never provides our potential applicants with fake, fabricated, and ambiguous information. In addition, we are very committed to counselling our students based on their educational background. Global Assistant always prefers to invite students in the office for further discussions free of cost.
3. Vision, Mission, and Values
Mission
Company mission refers to the company's desired position that the authority wants to see in the future. It also indicates the written statement that represents the short-term intention of the business. The mission is an indispensable part of the vision of the company. For example, the mission of Global Assistant has been mentioned below for better understanding.
Global Assistant is dedicated to providing effective, efficient, and respectful service for potential applicants with accountability and authenticity.
Vision
Company vision indicates the overall objective of the business that they are intended to achieve. It is a long-term aim of the company relevant to the business. It also shows the final and concise goal of the company.
"Our vision is to be the most reliable education consultancy firm in the world."
Values
Company values are the principles that guide employees to conduct business ethically. The values of the company are honesty, integrity, authenticity, loyalty, simplicity, respect, trust and so more.
4. Business Goal & Objectives
Business goal refers to the planned target set by the company authority to achieve it within the period of time. It is also known as a business objective. The most common five components of the business goal are: Specific, Measurable, Attainable, Relevant, and Time-Based. Above all, the viewers might get a more clear concept about the business goal from the sample mentioned below.
Firstly, The Global Assistant works directly with students and their guardians to assist the student in choosing the best university for bachelor's, master's, and Ph.D. degrees. It also helps universities to improve their reputation by providing intellectual students. We help students by letting them know which universities are going to pay waivers and scholarships. Additionally, Global Assistant always recommends students choose the best institutions and programs based on their previous education. In addition, we are committed to building rapport with students, families, university authorities, and customers who need an assistant. Our staff motivates students to follow a proven way of avoiding wrong and ambiguous paths. Finally, Our company must work towards meeting the demands of customers and achieving a common goal.
5. Services
Company service refers to the selling of tangible and intangible products. Global Assistant is a consultancy firm, so they surely sell intangible products.
Firstly, we want to express our heartfelt gratitude to our clients and outbound companies supporting us to keep continuing the pace of our consulting service. We have already proven our expertise and experiences by recruiting many intellectual students to several universities and colleges.

Our Services: Worldwide Student Admission, Visa & Ticket, Tourism, Accommodation and Job, Passport, Transportation, and so more.
6. Economic Intents
Global Assistant is intended to earn money and educate people by sharing information and knowledge about what it has. The amount of consultancy fees is very reasonable, comparatively meeting the applicant's demands.
7. Ownership & Management Team


8. Business Growth and Timeline
Business growth is a life cycle of company development from starting to present condition. It also implies the development timeline of the company's business. The business development timeline reminds employees of the long progressive history of the company. It also keeps written notes of the business growth and achievements of the company.
Global Assistant Business Growth and Timeline
The Global Assistant Company started its journey in 2019 with small capital and resources. It started with a charming slogan, "seeking a Chance to Make Your Dream Comes True," as well as Moto "Authentic Information Provider". The mission and vision of our company are very attractive that helped this company to earn popularity.

Now is 2019; it is safe to say that Global Assistant has become one of Asia's most popular student consulting companies. Firstly, the Global Assistant Company has enough human resources to operate the company smoothly. For example, more than 20 employees are working for serving clients.

In addition, GA acquired clients' satisfaction with enormous material and intangible resources. Above all else, GA applied some common business growth strategies, including product expansion, market penetration, market expansion, and diversification.
9. Five-Year Business Plan
A five-year business plan is a written statement of goals the company plans to reach within five years. It is also a part of the mission and vision of the company. Five years plan is an inevitable portion of an effective company profile. It will assist in dynamically achieving the company's vision. It also makes employees organized to perform their duties properly and persuades clients to keep faith in the company.
The Global Assistant Company has planned to achieve five goals in the next five years, such as advertising in 2021, setting up another office in 2022, collaborating more in 2023, associating with social work in 2024, and organizing international events in 2025.
Advertising in 2021
Our company has taken all kinds of initiatives to achieve the common goal. Before, we had emphasized both offline and online marketing. As our company declared 2021 as the year of online marketing; so, we are now focusing on online marketing. We had chosen social media for online marketing to attract audiences. Social media, especially Facebook, has become one of the most famous media among youth. Hence, we used Facebook to target audiences as well as for our publicity. Finally, we have achieved our gratification through cumulative endeavors.
Setting up another office in 2022
According to the five years plan of the Global Assistant Company, we are going to build a new office by 2022. This year is significant for decoration in our office because we will collaborate with new organizations by 2023.
Making more collaboration in 2023
We are going to make a bilateral agreement with many institutes by 2023. Our company is estimated to have more than 20 collaborations with different universities.
Associating with social work in 2024
Every year our company's higher-level authority sits together for further discussion about the company's mission and vision. Our company is very liberal in maintaining the rules and laws of the county. So, we never intend to breach any rules and regulations. To help the unprivileged people, our company is coming up with helping hands to conscious mass people about health. Additionally, we expect to organize a social campaign to arouse hatred and spread plastic bottles everywhere. We believe doing little things can make a big difference. It is estimated that more than 8 million tons of plastic are dumped into our oceans every year. So, our campaign surely reduces a million plastics dumped in the sea and saves the world.
Organizing International Events in 2025
In 2025, we are planning to organize an international study fair; so, we possess all kinds of resources to manage the international event. Based on our employee's confidence and resources, the Global Assistant firmly believes that it will certainly help to achieve our company's goal.
11. News or media relationship
News and media relationship refers to building a relationship between a company and media such as journalists, channels, social media, etc. For instance, your website links with social media like a Facebook page, Instagram, and YouTube.
For example, Collaboration with Daily newspaper and Social Media Pages
Additional Documents
Additional documents of company profile mean the company's supporting documents that serve as evidence of the company-for example, uploading your trade license, Tax Certificate, Cash flow statement, Income statement, Balance sheet, Detailed financial projections, Capital equipment list, and CVs of key officers are considered additional documents.
Conclusion
In conclusion, the 11 elements of the company profile are Company Name, Logo, Tagline, Contact information, Company Introduction Vision, Mission, and Value, Business Goal and Objectives, Services, Economic Intents, Ownership and Management Team, Timeline, and growth, Five Years of Business Plan, Company Rules and Regulations, and News and Media Relationships. The sample of how to make a company profile certainly helps viewers write a company profile.