Film Review Writing of 3 Idiots For Students Example PDF. 3 Idiots Movie Review Essay PDF.  Movie Review Writing Class 11, 12 3 Idiots.
Film Review
A film review refers to a feature article analyzing the quality of the film strategically. It is a process of providing an opinion based on the strengths and weaknesses of the film. The film review is the most common type of feature writing, followed by the travelogue, how-to, and personal feature story.
The film review statement is formed based on the film's plot, dialogue, acting, theme, location, sound, music, and more. Hence, a film review is a process of analyzing a film thoroughly and critically. The 3 Idiots is the most famous Indian film for writing a film review feature story.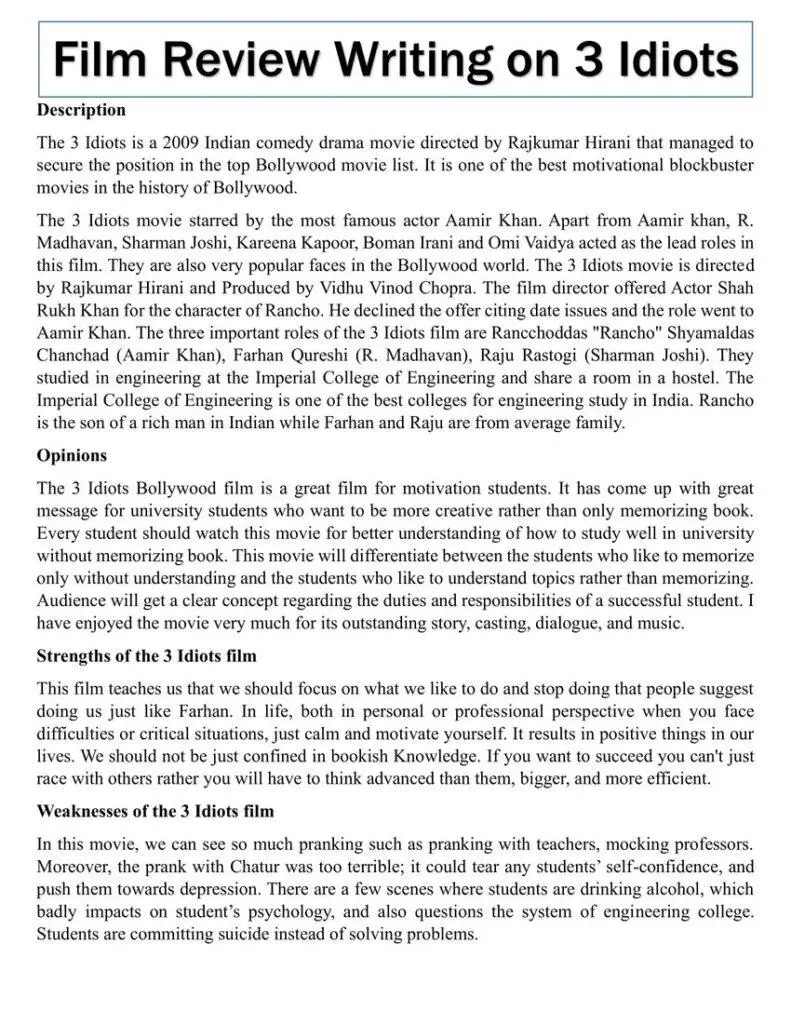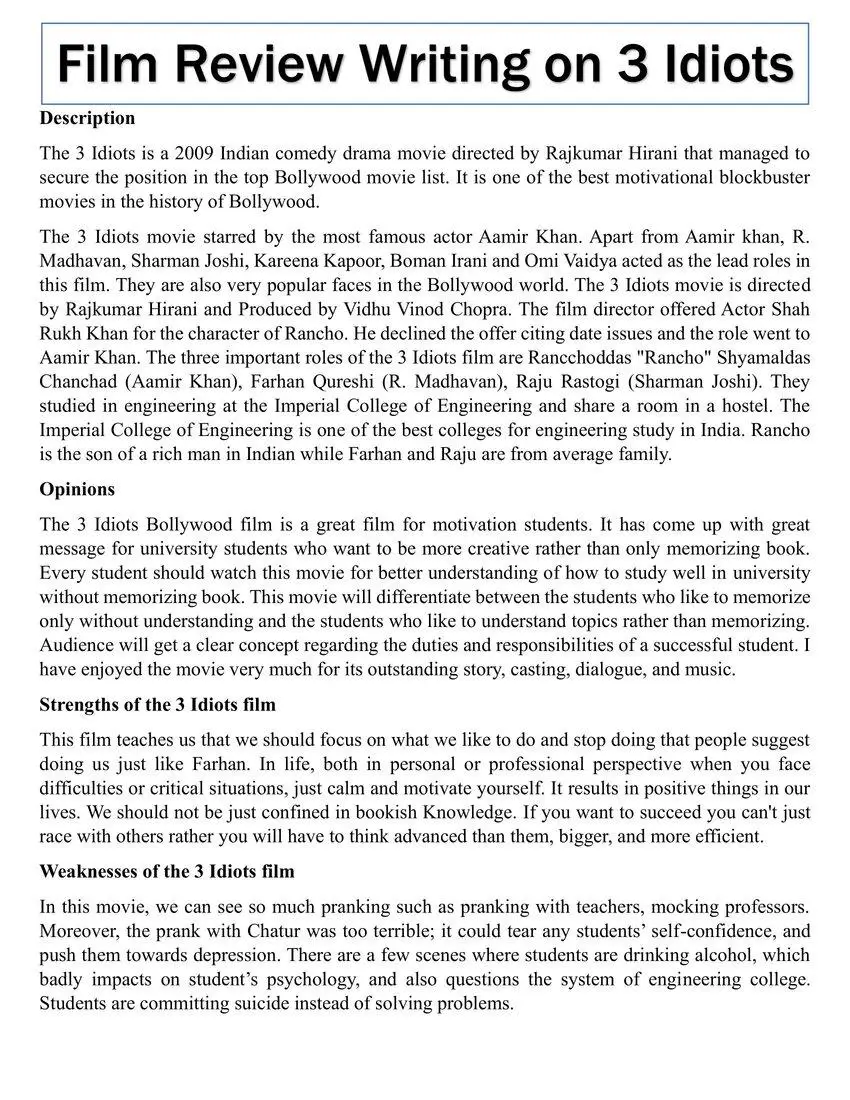 Film Review of 3 Idiots For Students
Description of the 3 Idiots Film
The 3 Idiots is a 2009 Indian comedy-drama film directed by Rajkumar Hirani. It has managed to secure a position in the top Bollywood movie list. It is one of the best motivational blockbuster films in the history of Bollywood. The 3 Idiots film has become the highest-grossing opening-day collection film. It has also become the highest opening weekend collection film in India's history of Bollywood films. It is one of the first Indian films that earn Rs 200 Crores net at the box office. Finally, it earned Rs 395 crores globally.
The most famous Indian actor Aamir Khan played the leading role in the film 3 Idiots. Apart from Aamir Khan, R. Madhavan, Sharman Joshi, Kareena Kapoor, Boman Irani, and Omi Vaidya acted in the lead roles. They are also very familiar faces in the Bollywood world. The 3 Idiots film is directed by Rajkumar Hirani and Produced by Vidhu Vinod Chopra. The film director offered Actor Shah Rukh Khan the character of Rancho. He declined the offer citing date issues, and the role went to Aamir Khan.
Cast 
The three essential roles of the 3 Idiots film are Aamir Khan as Rancchoddas "Rancho" Shyamaldas Chanchad or Phunsukh Wangdu, R. Madhavan as Farhan Qureshi, Sharman Joshi as Raju Rastogi. They studied engineering at the Imperial College of Engineering and shared a room in a hostel. Apart from them, the additional stars are Kareena Kapoor as Pia, Omi Vaidya as Chatur Ramalingam (Silencer), Boman Irani as Viru Sahastrebuddhe (Virus), Parikshit Sahni as Mr. Qureshi,  and Mona Singh as Mona Sahastrebuddhe (pia's sister).
Story
The Imperial College of Engineering is one of India's best colleges for engineering studies. Rancho got admission as a rich man's son in India, while Farhan and Raju are from an average family. Farhan dreamed of being a wildlife photographer, but his father insisted he study engineering because it had his wish. Indeed, Rancho was the son of a gardener.
Raju has come to study to uplift his family's fortunes because he is from an impoverished family. Rancho's passion is earning knowledge rather than the conventional obsession of the other students with exam ranks. With his different approach, Rancho suffers the wrath of the dean of the college, Professor Viru Sahastrabudhhe (ViruS) (Boman Irani). Rancho terms the dean as ViruS.
He irritates his lecturers by giving creative and unique answers. Joy was also a student of the Imperial College of Engineering. She had requested the dean to extend his major project on the compassionate grounds that his father had suffered a stroke. But, Virus refused, saying he was utterly unmoved by his son's accidental death after being hit by a train. Rancho condemns the learning system of the institution, blaming it for Lobo's death.
Threatened by Rancho's talent and free spirit, ViruS labels him an "idiot," and he attempts to destroy his friendship with Raju and Farhan. In contrast, (Omi Vaidya) Chatur Ramalingam, or "Silencer," is the model student in the eyes of ViruS, who always wants to get high marks through memorizing rather than understanding.
Finally, Rancho comes first, and he was awarded ViruS's pen that he had been keeping for a few decades to gift to the most brilliant student.
3 Idiots Film Review- Opinions
The 3 Idiots Bollywood film is a great film to motivate students. It has come up with an excellent message for university students. Three Idiots film teaches us to be more creative rather than only memorizing books. Every student should watch this film to understand better how to study well at University without remembering books.
The 3 Idiots film will help differentiate between the students who like to memorize only without understanding and those who want to understand topics rather than memorize. The audience will get a clear concept of the duties and responsibilities of a successful student. I immensely enjoyed this film for its fantastic story, casting, dialogue, and music.
Strengths of the 3 Idiots Film
This film teaches us that we should focus on what we like to do and stop doing what people suggest doing us, just like Farhan. From a personal or professional perspective, calm and motivate yourself when you face difficulties or critical situations. It results in positive things in our lives. We should not be just confined to bookish Knowledge. Only getting higher ranks won't help you succeed, but you will surely succeed if you get excellent at your work.
Don't run behind the success; achieve excellence first; the success will automatically come looking for you. Be always creative in your answers, work, & things, which helps you become more capable of your own life.
Believing in our own is very much important. If you want to achieve something, you must think you can fully achieve it. It will surely get easier to achieve your goal. If you're going to succeed, you can't just race with others; instead, you will have to think more advanced than them, more significantly, and more efficiently.
Based on the 348,000 responses in IMBD,  the 3 Idiots film obtained a rating of 8.4/10.
Weaknesses of the 3 Idiots Film
This film has many pranking scenes, such as pranking teachers and mocking professors. Moreover, the prank with Chatur was too terrible; it could tear up any student's self-confidence and push them towards depression. There are a few scenes where students drink alcohol, which badly impacts students' psychology and questions the engineering college system. Students are died of suicide instead of solving problems.
Additionally, in this film, the audience can see the delivery of a baby with a suction pipe, giving exams after times up, and just fleeing quickly by mixing their papers with other papers.
We think the filmmakers haven't done enough research on baby delivery. Otherwise, they would have known that the placenta was also delivered after the baby's delivery. Doctors can find such mistakes in the film.
The leading role in this film is Aamir Khan, who did not struggle enough to achieve success. But it is a fact that struggle and handwork are inevitable for success.
Additionally, the writer Chetan Bhagat claimed that the story of the 3 Idiots film has taken from his novel "Five Point Someone." This controversy came up just after released the movie. However, Rajkumar Hirani explained that he had taken permission from Chetan Bhagat while writing the script.
3 Idiots Film Evaluation with Evidence
Based on the evidence, it is safe to say that this is one of the most successful films in Bollywood history. The 3 Idiots film earned around US$90 million, making it the highest-grossing Bollywood film. Additionally, the film has won six Filmfare Awards, including Best Film, and three National Film Awards. It has won overseas awards, such as Japan's Videoyasan Awards Grand Prize. Further, the 3 Idiots film has been nominated for Best Outstanding Foreign Language Film at the Japan Academy Awards and Best Foreign Film at China's Beijing International Film Festival. The 3 Idiot film was a hit in China, and they were even interested in remaking it.
 Lessons from the 3 Idiots Film
Raju: I have learned to stand up on my feet after breaking my legs.
Rancho: Follow your passion. Don't study something you know you are not interested in or are bad at.
Rancho: Learning is not memorizing the exact words from the textbook. Learning means understanding the topic and describing it in your own words with your ideas.
Recommendations to Watch 3 Idiots Film
I want to recommend people to watch this motivational film. Firstly, It is a family-friendly film. So, all family members, from the eldest to the youngest, can sit together to watch this film. There is no intimate sexual scene except a kissing scene. In addition, this film story is appropriate to student life so that students will enjoy it very much. Students can get motivation from this film to study well. Finally, it is a motivational film and gives positive thoughts to acquire success in life.
The 3 Idiots Film Review PDF Download Link- Download PDF