Demographic Questionnaire For Research PDF. Demographic Questionnaire Examples. Example of Demographic Profile Questionnaire For Students
Demographic Questionnaire
The demographic questionnaire is a collection of demographic questions assigned to separate the respondents into similar subgroups based on socioeconomic data such as age, gender, education, religion, income, and family status. It allows surveyors and researchers to obtain background information from the respondents. A cluster of demographic questions forms a demographic questionnaire. So, the demographic questionnaire includes questions about the respondent's age, gender, nationality, education, race, religion, experience, economic condition, and family status. It is an effective tool for market surveyors to conduct audience segmentation. Therefore, it is familiar as a demographic example for market segmentation. It is also essential for researchers to collect qualitative and quantitative research information. Researchers utilize these questionnaires to gain data from respondents and informants.
Demographic Questionnaire For Research
The demographic questionnaire for research means a bundle of questions set by the researchers to obtain socio-demographic information from the respondents and informants. Informants denote participants in the qualitative analysis. In contrast, respondents indicate the participants in the quantitative survey research. Researchers utilize these questionnaires to gain participants' background information in qualitative and quantitative studies.
The questionnaire is crucial for demographic, geographic, and psychographic market research. This article presents the demographic questions that assist in collecting data.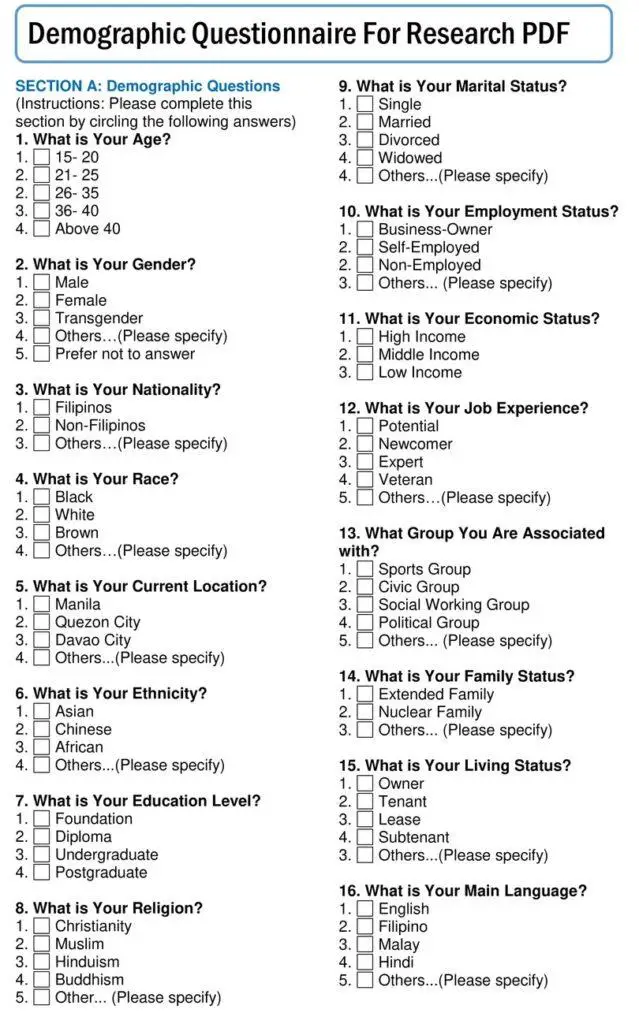 The students and researchers add a questionnaire introduction before the demographic information to explain the study. The questionnaire introduction sample is as follows:
Dear Respondents,
My name is Kobi, and I am currently studying for a Doctor of Philosophy in the School of Business and Economics at the University of Putra Malaysia. I am conducting the research entitled "Title of the Research." This questionnaire includes 20 questions that might not take more than 10 minutes. However, all the information you provide in this questionnaire is intended to complete the study only. So, your info on this questionnaire will be preserved strictly confidential and used only for survey purposes. Thank you.
Demographic Questionnaire Example For Research
The 20 Demographic Questions For Survey
The following example of the demographic questionnaire for research includes 20 questions about the respondents.
SECTION A: Demographic Questions
(Instructions: Please complete this section by circling the following answers)
1. What is Your Age?
1. 15-20
2. 25-30
3. 30-35
4. Above 35
2. What is Your Gender?
1. Male
2. Female
3. Transgender
4. Others…(Please specify)
5. Prefer not to answer
3. What is Your Nationality?
1. Filipinos
2. Non-Filipinos
3. Others…(Please specify)
4. What is Your Race?
1. Black
2. White
3. Brown
4. Others
5. What is Your Current Location?
1. Manila
2. Quezon City
3. Davao City
4. Others…(Please specify)
6. What is Your Ethnicity?
1. Asian
2. Chinese
3. African
4. Others…(Please specify)
7. What is Your Education Level?
1. Foundation
2. Diploma
3. Undergraduate
4. Postgraduate
8. What is Your Religion?
1. Christianity
2. Muslim
3. Hinduism
4. Buddhism
5. Other… (Please specify)
9. What is Your Marital Status?
1. Single
2. Married
3. Divorced
4. Widowed
4. Others…(Please specify)
10. What is Your Employment Status?
1. Business-Owner
2. Self-Employed
2. Non-Employed
3. Others… (Please specify)
11. What is Your Economic Status?
1. High Income
2. Middle Income
3. Low Income
12. What is Your Job Experience?
1. New
2. Expert
4. Veteran
5. Others…(Please specify)
13. What Group Are You Associated With?
1. Sports Group
2. Civic Group
3. Social Working Group
4. Political Group
5. Others… (Please specify)
14. What is Your Family Status?
1. Extended Family
2. Nuclear Family
3. Others… (Please specify)
15. What is Your Living Status?
1. Owner
2. Tenant
3. Lease
4. Subtenant
3. Others…(Please specify)
16. What is Your Main Language?
1. English
2. Filipino
3. Malay
4. Hindi
5. Others…(Please specify)
17. What Is Sexual Orientation?
1. Heterosexual
2. Homosexual
3. Bisexual
4 Pansexual
5. Asexual
6. Lesbian
7. Gay
18. Where Do You Stay in Malaysia?
1. Kuala Lumpur
2. Petaling Jaya
3. Cyberjaya
4. Klang
5. Kajang
6. Puchong
7. Seri Kembangan
8. Others(Please Specify)
19. What is Your Political Affiliation?
1. Democratic
2. Republican
3. Independent
4. Others (Please Specify)
20. Are You Involved With Local or National Politics?
1. Yes
2. No
3. Prefer Not To Say
Demographic Questionnaire For Research PDF
The author presents examples of demographic questionnaires in pdf format for students. So, this content assists students in obtaining knowledge on how to make demographic questions for research. So these are examples of demographic questionnaires for college students. Additionally, this example helps researchers to develop survey questionnaires for further research. Hence, they are also known as demographic questionnaires for surveys. The author has attached a pdf demographic questionnaire so students and researchers can download it.
This is the sample of the demographics questionnaire for students.
Demographic Questionnaire For Research PDF- Demographic Questions Example PDF